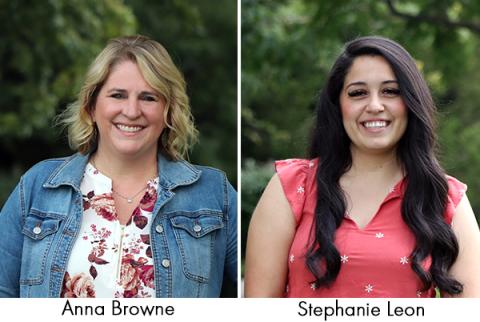 The Port of Morrow is pleased to announce the hiring of two new bilingual workforce development personnel.
Anna Browne has been hired as the Workforce Development Specialist. A Boardman resident for the past 18 years, Browne comes to the Port from the OSU Extension Service where she has worked for 6 years as the Outreach Coordinator for College and Career Readiness and as 4-H Coordinator for Umatilla and Morrow counties.
"This position interests me because it offers a great service to our community by providing information about employment and education opportunities within our region. It's exciting to help people be successful and find a career they can be passionate about right here in Boardman. The Port's leadership to provide workforce and economic development in our region is unparalleled. The Workforce Development program has had such a great start and I look forward to continuing this work and bringing some fresh ideas," says Browne.
Browne has a bachelor's degree in Spanish and Latin American Studies and a master's degree in Education from Eastern Oregon University. She says she is looking forward to working directly with the Boardman community, local schools, and Morrow County residents to continue the mission of Workforce Development. Browne begins her role at the Port on October 3, 2022.
Stephanie Leon has been hired as the Workforce Training Coordinator. Leon has worked for Oregon Department of Human Services in Hermiston for the past several years.
"I am looking forward to contributing to, creating, and implementing programs that will better assist our students, workforce, and community," she shares. "I'm excited about being part of a team that will offer opportunity for professional growth and a sense of purpose in helping people achieve their goals."
Leon grew up in Boardman and returned after college. She has a bachelor's degree in social science from WSU Tri-Cities. She starts her new position at the Port on October 11, 2022.
"We have heard from many employers how important workforce development is at the port," says Lisa Mittelsdorf, executive director. "The addition of Anna and Stephanie will meet a critical need in our region to support a skilled workforce here in Morrow County."
Workforce Development at the Port of Morrow provides a number of services to job seekers in the region and helps connect them with employers who are hiring. The department is also responsible for several key educational programs for teachers and students, including the Educator Externship, the Morrow County High School Internship Program, the Nuts, Bolts, and Thingamajigs Camp for middle school students, and the Columbia Works Summer Internship Program.