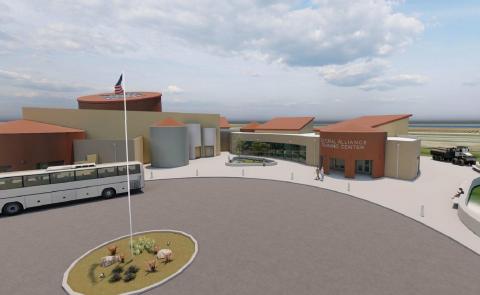 The Port of Morrow is pleased to announce the development of a new training center in Boardman. The "Cultural Alliance and Training Center at SAGE" will add an approximately 12,500 square foot expansion at the SAGE Center. The future facility will provide ample room for job fairs, training, women and minority leadership conferences, health education, small business development enrichment, and events focused on community inclusiveness.
"We are excited to be adding this new venue space," says SAGE Center Manager Torrie Griggs. "This addition will provide increased meeting room capacity that will make large seminars and group events a success right here in Boardman."
"The SAGE Center expansion will provide a beneficial community-based development center to assist our regional education and industry partners with programs and events that support continuing education, workforce initiatives, and youth programs," says Port of Morrow CEO Ryan Neal. "We want to thank Greg Smith for his budgetary leadership for Morrow County and District 57. The Port is excited to continue to make Morrow County a great place to live and work."
The Oregon Legislature ended their 2021 session with the passing of House Bill 5006, which appropriates funds for projects around the state. The Port of Morrow will receive $4.3 million for the construction of the Cultural Alliance and Training Center at SAGE.
Pictured: A conceptual rendering of the Cultural Alliance and Training Center at SAGE. LKV Architects in Boise, Idaho is working with the Port of Morrow to design the new facility.