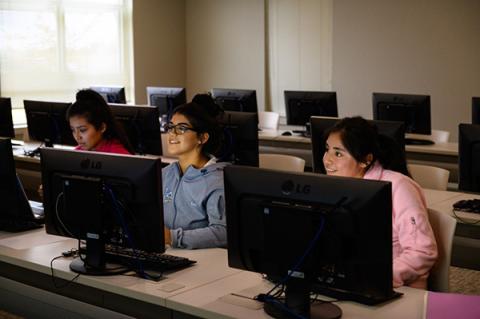 The Port of Morrow is pleased to announce a new partnership with Blue Mountain Community College to offer free noncredit classes and forklift training. Classes will be located at the BMCC Workforce Training Center and open to the public. Participants do not need to be registered as a BMCC student to attend.
New courses include Microsoft Word and Excel as well as computer applications for beginners. BMCC is also offering a new language learning platform you can access remotely.
In addition, the new forklift simulator is available for training during regular business hours. The simulator is available in multiple languages and provides a safe and free training environment for anyone interested in building additional skills.
All course schedules have been set through May and include evening and morning class times. Bilingual options are available in English and Spanish. More information and the link to register can be found on our Workforce Training page. .
"We have heard from employers and job seekers that there is a need for short term bilingual training," says Director of Workforce Development Kalie Davis. "We are excited to partner with Blue Mountain Community College to make these opportunities easily accessible and free."
"This partnership with the Port of Morrow offers some really exciting opportunities for local residents. We at BMCC are excited to welcome new students into the building to learn new or refresh existing skills, all at no cost to them.," says BMCC Workforce Training Center Director Anne Morter. "We are thrilled to have the Workforce Training Center be the regional training hub for Morrow County residents."