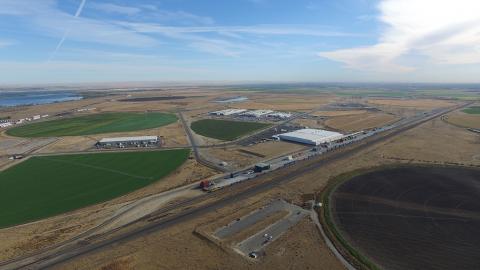 Business Oregon has designated the East Beach Industrial Park as a Regionally Significant Industrial Site (RSIS).
Owned by the Port of Morrow, East Beach Industrial Park is located north of the Union Pacific Railroad and west of Highway 730. The industrial zone is slated for infrastructure improvements over the next five years, preparing an estimated 982 developable acres for industrial development and more than 800 potential jobs in the region.
Identified infrastructure needs include connecting fresh and potable water, natural gas, rail, and sewer improvements. The improvements mean shovel-ready sites.
"Shovel ready sites are critical to attracting new industry to the area and remaining competitive in the region and State. The ability to take a client and show them sites where all infrastructure is available allows clients to make quick decisions on where to locate and make the investments we hope to achieve," says Ryan Neal, Port of Morrow Executive Director. "The RSIS designation at the East Beach Industrial Park is the first site in Oregon that allows for infrastructure improvements to occur at industrial zones with the ability to recoup that investment over time. Designated funds are set aside by the Oregon Legislature and tied to future income taxes for qualifying jobs resulting from development within the RSIS."