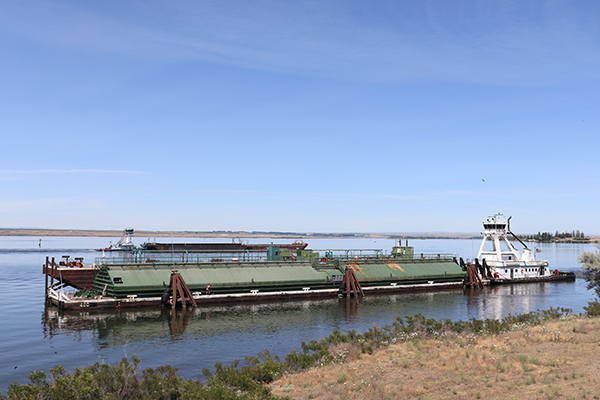 Located in the heart of the Northwest, the Port of Morrow is strategically connected to the world through Columbia River barges, railroads and Interstate freeways.
Rail
The Union Pacific mainline passes through the Boardman Industrial Park and the East Beach Industrial Park. Access is provided by convenient rail spurs located in both parks. An extensive expansion was completed in 2021 for the East Beach Industrial park thanks to a $6.55 million Connect Oregon grant. In 2018, the Port was awarded a $19.4 million USDOT BUILD Grant, which will extend rail spurs from the UP mainline to the Port's Columbia River marine terminals.
Barges
The most economical transportation mode, Columbia River barges put cargo within 24 hours of ocean-going freighters in Portland. Tidewater Terminal in the Boardman Industrial Park is the largest container terminal upriver from Portland. The future Columbia River Barge Terminal Rail Access Project will enable rail-to-barge access for shipments along the Columbia River at Terminals 1 and 3.
Interstate
The Boardman, East Beach, and Airport Industrial Parks offer access to the east-west Interstate 84 as well as north-south Interstate 82. National common carriers and local contract carriers serve the Parks.
General Aviation
A central feature of the Airport Industrial Park is the 4,200 foot runway, with the ability to accommodate 727s. Corporate jets and light general aviation aircraft use the airport regularly. We are continually making upgrades to the facility, based on a long-range plan, to better serve local industry needs.